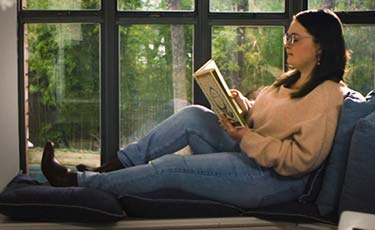 Learn how to feel in control of your treatment journey
Tips for teens and young adults living with acute lymphoblastic leukemia (ALL) or lymphoblastic lymphoma (LBL)
The doctor may recommend a treatment plan for teens and young adults that is similar to what is used to treat children with ALL and LBL. It's called a pediatric-inspired regimen.
A pivotal study, CALGB 10403, looked at how well treatment worked in teens and young adults (ages 17-39) with ALL. The results showed that patients who received a pediatric-inspired regimen were able to stay healthier longer than patients who received non-pediatric regimens in earlier studies. Other results showed that pediatric-inspired regimens that include asparaginase have more than doubled the length of time teens and young adults with ALL stay cancer-free compared with patients who received non-pediatric regimens in earlier studies.
After an ALL or LBL diagnosis, scheduling all treatments and going to all appointments is important to help ensure asparaginase doses are not missed.
As a reminder, various medications will be needed as part of a larger treatment plan. Healthcare team members are there to help during this challenging time. Work closely with them to get the most out of treatment.
1
Ask for information
If uncertain about anything, ask the healthcare team for clarity. Listen to their answers, and make sure they provide enough information for comfort and confidence in the treatment plan. Take notes during appointments to reference later.
2
Speak up
One important way to manage fears about an ALL or LBL diagnosis and treatment plan is by self-advocating and speaking up. Writing down thoughts and questions before an appointment can be helpful when it comes to remembering what to ask.
3
Find support
Taking care of one's mental health is critical. Consider mindfulness or meditation to manage anxiety, and lean on friends and family for help. Meet with local or online organizations or cancer advocacy/support groups. Ask the healthcare team for referrals to support groups.
Talk with the healthcare team about asparaginase therapy with RYLAZE.